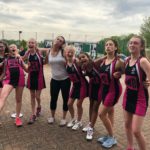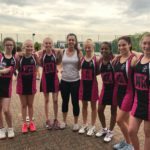 Here are our U13 Regional Development team and coach Nicole Duke.
Our U13s experienced their first regional league last year, the first of our juniors with some exceptional results. We started up against Eagles, a well drilled team but came away with a fantastic win of 29-24, filling us full of confidence.
Up next were MK Netters where the girls really proved the team they could be with a smashing 36-12 win.
Our third game was up against our home rivals, Clan. We pushed hard, full of confidence but couldn't pull it out of the bag on the day, losing 29-33. A nail biting game!!
Next we suffered a devastating loss against Trinity by only one goal at 29-30 however our girls never stopped learning, developing and growing as players. You could see them blossoming through the league!
Next we traveled down to Southampton to play against Dreams which proved a difficult game and as hard as we tried we couldn't find the win on the day. The final score was 39-41 but a lot was learnt ready for our final game!
Our last game was a home match against Swan. With a fantastic home crowd, pushing our girls on at every pass, they smashed a fantastic win of 22-14. It was a bitter sweet match with one of our players going down and fracturing her leg, get well soon Eleanor!!
Words cannot describe how fantastic our first regional adventure was for Marlow Kites. We placed an amazing 3rd out of 7. All the players put their heart and soul into every match and we are very proud of you all!  A huge thank you to Mel Simpson and Sarah Clarke for all of your help throughout the season and thank you to all the parents, friends, family members for your support throughout.
We are looking forward to the regional qualifying tournament on 3rd June where we will be taking our U13 and U14 squads.  Good luck girls!
Left to right: Darcy Dean, Lulu Moore, Tiana Davenport, Zoe Clarke, Krishni Chavda, Charlotte Simpson, Edie Minter.  Missing from photo – Eleanor Sharpe and Evie Highgate